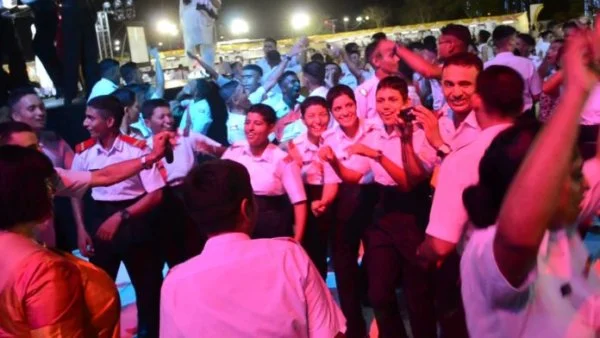 Ball parties are usually organized about two weeks before the passing out parade. It is one of the major events at the academy that cadets look forward to, eager to invite their partners into their world (basically to show off the army way to us civvies!).
Here's my account of ball party at Officer's Training Academy (OTA) Chennai.
The event starts at about 1900 hrs. Academy gates open for the annual influx of beautiful ladies (and a few gentlemen). Gentlemen and lady cadets receive their guests and move to the venue together.
Look​
Cadets and officers handsomely dress up in 6 Bravo, dress code for official and social gatherings. Ladies dress up in classy sarees and suits and look jaw-dropping gorgeous. Girlfriends usually wear dresses and gowns.
The event​
Organized in a huge lawn called something-or-the-other grounds (don't remember). There was a massive well lit stage and a huge dance floor,with DJ system, speakers and all that jazz. I exclaim "Oh! This looks promising. I was expecting a drab formal affair." In response my boyfriend smirked and shot me a 'You know nothing Jon Snow' look.
So yes, the event starts with a welcome note by emcees, followed by Mr. and Ms. OTA competition.
Every company represented by 2 participants compete for the coveted title. All through the ramp walk I was mesmerized. These future officers had so much style and class, they put models to shame. After several rounds of intro and Q n A, the winners were announced. Academy Commandant then rolls a ball (a huge disco ball; is that why its called a ball party??)* and formally initiates the party.
The dance:​
One thing you should know is that there is no ballroom dance in these ball parties. Sure it starts with a few western tracks to get everyone in the mood. But slowly the floor is overtaken by stags. And it becomes like any other party. Song requests range from "saree ke fall sa" to "jai jai shiv shankar" to sukhbir and punjabi pop. But it's fun. So what did I do? I took my heels off and joined in!
People in the army sure know how to enjoy themselves. And considering the grueling training and jam-packed schedule, they deserve a break. You haven't seen dance unless you've seen these guys dance, like there's no tomorrow. I watched a Lt. Colonel break dance like a pro and the whole academy cheering for him. Every time I sat down to catch a breath, some officer or cadet would ask to join again.
Food was arranged in stalls on adjacent grounds. There were drinks for officers but cadets were not allowed to take any. (Some smart ones managed to sneak a few though). A photo booth was set up where you could get instant pictures. I got some cheesy pictures taken too
So after eating, getting clicked, chatting and dancing for endless hours, the party ended at about 2330 hrs. All the guests leave and cadets move for night fall-in (kind of an assembly). It was unlike any other party I had attended. Formal and informal, classy and grand, a little intimidating at first but hell lot of fun!
Best part​
My boyfriend can't dance to save his life. But when a gentleman and lady cadet crooned one of my favorite songs, he insisted we dance.
The song – Wonderful Tonight by Eric Clapton
Last edited: